64 Awesome Places To Eat Outside Right Now
Courtesy of Discover Newport
by Brittany Lauro
A lot has changed this year, but our favorite thing remains the same: Outdoor indulgences. From al fresco patios to seaside bars and even some sidewalks turned dreamy outdoor sanctuaries, these 64 spots have just what you need to relax and indulge. Six feet of social distancing included.
COVID-19 NOTE:
When you're ready, we can't wait to welcome you back to The Classic Coast! Rest assured, local restaurants, shops and business are doing everything they can to ensure the safety of all. This includes wearing mandatory face coverings, following guidelines put in place by health and government officials, and implementing stringent cleaning practices.
All we ask when you land on these shores is that you play your part in keeping everyone safe: Please be kind, wear a mask, wash your hands and maintain six feet of social distancing from others. When planning to visit a local restaurant, we ask that you please check their website for updates on new hours, regulations and to confirm if reservations are required.
Remember: No matter where you plan to dine, face coverings are required while waiting for your reservation/table; on your way to and from your table and if you leave your table to use the restrooms.
Seamen's Church Institute opened in 1930 as a hospitality sanctuary and educational center for Naval personnel, merchant marines and in later years, commercial fishermen. Today, the brick, Georgian-styled building designed by Beaux-Arts trained architect Frederick Rhinelander King is the only original structure remaining on Market Square, and is one of the few buildings on the Newport waterfront still being used for its original purpose. Inside remains facility rentals alongside a chapel and cafe offering breakfast and lunch in an outdoor seating area.
A classic harbor-side restaurant with al fresco seating, indulgent food and sophisticated charm, 22 Bowen's is situated right amid the liveliness of Bowen's Wharf. Opt to dine on their patio, or head across the cobblestone path to Portside (open seasonally), the restaurant's open-air, harborside bar serving up cocktails and bites.
COVID-19 NOTE
Reservations are strongly encouraged. Call (401) 841-8884 or click here. At this time, 22 Bowen's is unable to guarantee outdoor seating prior to arrival. Menus will be single use, or as a green option, all tables will have a QR code that will direct you to a mobile friendly menu you can view right from your phone.
Nestled on Waite's Wharf overlooking the harbor is @ The Deck restaurant where a casual atmosphere and fresh, local seafood reign supreme. Their waterfront patio serves up lighter fare like fish & chips and RI calamari, alongside a selection of craft cocktails.
From the owner of Alex and Ani and Carolyn's Sakonnet Vineyard comes Bar and Board Bistro, an upscale, chic restaurant located in a former bank and known for New England cuisine with a Mediterranean twist. The restaurant's open-air pergola sits on bustling Thames Street in the heart of downtown and features electric heaters while the outdoor patio offers a collection of propane heaters.
As for the menu, think seaside staples: calamari, mussels, and raw bar offerings alongside burgers and sandwiches, pasta, and of course, a bistro board offering seasonal cheeses, cured meats, breads and spreads.
COVID-19 NOTE
Reservations are required. Call (401) 619-1022 or click here.
Overlooking Newport's historic Washington Square, Bar 'Cino operates with an open kitchen concept and runs railroad-style, in single file, with tight banquette tables running parallel to stooled bar seating. The star of the show on their informal Italian menu is the grilled pizza, made extra, extra thin and served with whole shears for cutting.
COVID-19 NOTE
​Reservations are strongly recommended. Call (401) 619-8201 or click here. Menus will be single use, or as a green option, all tables will have a QR code that will direct you to a mobile friendly menu you can view right from your phone.
This dockside cafe tucked away in Newport Shipyard (a working shipyard, as you might have guessed from the name) is often referred to as one of Newport's hidden gems, and with good reason. The cafe's outdoor seating is situated next to some of Newport's most impressive boats and yachts, not to mention we've heard people say the pancakes are some of the best they've ever had. We won't deny it. Open March through December.
COVID-19 NOTE
Reservations recommended. Call (401) 619-5964 or click here.
The Black Pearl is somewhat of a Newport icon. It opened in the 1970s and has been serving award-winning chowder since. Their waterside patio is located smack dab in the middle of Newport's historic Bannister's Wharf and recently received a revamp, now outfitted with chic bistro seating and retractable pergola for enhanced shade. Savor harbor views and a new menu including raw bar options, sandwiches, soups and more.
Pro tip: Don't skip the chowder. Like we said, it's kind of world-famous.
COVID-19 NOTE
Reservations required. Call (401) 846-5264 or 
click here
.
A Newport staple for more than 40 years, Brick Alley Pub is no stranger to accolades, including Rhode Island Restaurant of the Year, Best Newport Restaurant, Best Bar Statewide, and the list goes on. With 25 beers on tap, award-winning nachos, seasonal cocktails and more, the extensive menu offers a little bit of everything. Make your way to the back of the restaurant to find their lively patio for outdoor dining.
This seaside lawn spotted with Adirondack chairs overlooking the bay at Castle Hill Inn is another Newport icon and summer staple. Offering panoramic seaside views, classic New England fare and warm-weather cocktails, you might find it hard to leave.
COVID-19 NOTE
Reservations required. Call (401) 849-3800. Reserved seating will be offered between 11:30 AM – 3:00 PM on The Lawn for parties of no more than eight people.
The Cafe at The Chanler is like something out of a dream. Step outside onto the patio adorned in a sunset-inspired palette and soft flowing draped fabric panels commissioned from a local sail-maker for an ethereal experience. Not to mention, it overlooks the Atlantic Ocean and First Beach below. Enjoy a Mediterranean-inspired menu with classic New England fare for lunch and dinner.
COVID-19 UPDATE
Reservations required. Call (401) 847-2244 or click here.
Local art and chill vibes are the centerpiece of Caleb & Broad, where everything you think about the Newport dining scene is eradicated. The eccentric eatery on Broadway recently underwent an extensive renovation, now boasting two murals by local artist Badway Creative and Ry Smith. They also recently expanded their outdoor dining area onto Broadway, which includes heaters and a canopy of Edison bulb string lights.
If you've passed Corner Cafe on any given weekend morning, chances are you've witnessed the eager crowds outside their door. This cozy, intimate cafe often comes with a wait, but believe us when we say their extensive menu loaded with crave-worthy offerings is worth every second. From the pesto and fresh mozzarella omelette (The Jimmy Pesto Especial, for future reference) to sweet bread french toast with maple pecan butter – this is the spot where your brunch dreams come true. The intimate restaurant recently expanded their outdoor seating to accommodate COVID-19 restrictions, and added heaters to keep warm into the chillier months.
A working raw bar and three floors of dining complete the experience at Benjamin's on Thames Street. Make your way to the third floor to check out their open-air bar and dining area known as the "Crow's Nest."
Pro Tip: Stop at the raw bar for your choice of $1 oysters served daily from 12:00 – 2:00 PM and all day on Tuesdays.
Situated right off historic Bellevue Avenue is this casual, trendy cafe where ingredients are sourced locally and the menu rotates seasonally. For brunch, you can always count on the tried and true staples: egg sandwiches, breakfast burritos, and avocado toast, alongside more eclectic offerings like chicken & biscuits or Irish smoked salmon with fried egg and corned beef hash. Round up your cru (see what we did there?), and head over for a BYOB brunch – just bring the booze, they supply the juice.
Diego's is known for Mexican dishes with modern flare on Bowen's Wharf in downtown Newport. Fresh ingredients meet homemade, to-die-for sauces and bold, vibrant flavors. Their outdoor patio offers an energetic atmosphere, making this casual eatery perfect for soaking up some sunshine.
Pro Tip: Do not skip the blood orange margarita.
COVID-19 UPDATE
Reservations encouraged. Call (401) 619-2640.
Fastnet Pub, named for the southernmost lighthouse in Ireland, overlooks Washington Square and Broadway. A traditional Irish pub, Fastnet offers 30 draft beers and an expansive outdoor patio equipped with plenty of seating and multiple areas of game play. Enter through the back entrance (pro tip: there's free parking in the back) to enjoy outdoor ping pong, foosball and pool; or head indoors for darts and indoor pool.
COVID-19 NOTE
For safety purposes, the pool tables, ping pong table, darts and foosball are closed for play.
"Life gave us all lemons, so we made a beer garden," reads the website for the new Outer Element. This long-time dormant parking lot/gas station turned outdoor beer-garden-esque dining area neighbors its parent restaurant, The Fifth Element, and was constructed in response to COVID-19 dining restrictions to serve as a cheerful place for guests to dine in accordance with new regulations. Adorned in potted plants and vibrant picnic tables under a canopy of Edison-bulb string lights, Outer Element is tied together by a mural that reads out "HOPE" on the back wall commissioned by a local artist.
The menu is comprised of Fifth Element favorites including pizzas, burgers, sandwiches and more.
COVID-19 NOTE
Reservations encouraged. Call (401) 619-2552
Featured on Food Network's Best of Rhode Island and touting more than 40 years of experience, Flo's Clam Shack is renowned for life-changing seafood served in a casual, oceanfront setting.
Pro tip: Food Network's Chris Cosentino named the fried clam roll the best thing he's ever eaten. Don't skip it.
COVID-19 UPDATE
Indoor seating is available on a first come, first served basis. Both upstairs seating and raw bar seating is currently open.
Located right on Newport Harbor, the Pavilion at Forty 1 North is a modern outdoor bar overlooking the iconic Newport Bridge and offering a scenic spot to savor classic fare or lounge on area sofas and armchairs. Soak in the sights while sipping on signature cocktails.
The Vanderbilt's outdoor oasis features cozy sofas set amid meticulously manicured flowers and greenery for an experience both vibrant and relaxing. Savor signature cocktails alongside light meals and snacks.
COVID-19 NOTE
Occupancy will be limited to allow for social distancing.
Located at the new Hammett's Hotel in downtown Newport, this freestyle Italian restaurant is the first solo venture from renowned Executive Chef and Rhode Island native Kevin O'Donnell. His original take on Italian dining comes complimented by a carefully crafted bar program offering a mix of classic and reinvented cocktails, beer from local breweries and a predominantly Italian wine list. As for the menu, think small but robust, with offerings including Ricotta Love Letters, Tagliolini and Corn Found on an Italian Street (AKA the only corn we want.)
COVID-19 NOTE
There is a maximum of eight people per table, and time limits may be enforced at management's discretion.
A quick ride to Goat Island (don't worry, you can drive or walk) will land you at Gurney's Newport Resort. When it comes to outdoor dining at this chic seaside hotel, you have your fill of options. Choose between Scarpetta, the iconic Italian restaurant delivering signature classics and seasonal dishing with both indoor and outdoor seating; The Lounge & Firepit, offering  food and drink alongside a collection of outdoor fire pits overlooking the bay; and The Pineapple Club (open seasonally), a casual gathering spot situation on the bay offering specialty cocktails and light bites.
The fairly new Hummingbird on Broadway specializes in home-style Caribbean food and casual grub. Think: Jerk chicken, Oxtail hot plates, crispy fish wraps, and more. Their newly created outdoor patio features high-top seating and heaters for cozy dining into the cooler months.
Modern culinary treasures from the land and sea meet flavor and freshness at One Bellevue at Hotel Viking. Their outdoor patio situated directly on world-famous Bellevue Avenue seats 50 and offers enchanting views of some of Newport's favorite historic sights.
A good thing got a lot better when Hotel Viking revamped their rooftop bar + kitchen, Top of Newport. Enjoy a full menu and a full bar alongside tables and plush couches. They also offer live entertainment every Thursday from 5:00 – 8:00 PM and daily specials. (Open seasonally)
Welcome to Jo's American Bistro where the atmosphere is convivial and the food is an elevated casual. American cuisine is the highlight here, with items like the Jo's Burger and steak frites taking center stage. Their patio overlooking Memorial Boulevard in the center of downtown is outfitted with heaters for chilly-weather dining.
COVID-19 NOTE
Reservations preferred. Call (401)847-5506. Per state mandate, all parties regardless of size will be allotted 90 minutes for dining. Additionally, due to reduced capacity to allow for safe dining, seating requests are not guaranteed.
Located dockside at the end of Bowen's Wharf, The Landing offers commanding views of Newport Harbor and the Newport Bridge. Savor a variety of seafood, raw bar options and more from their outdoor deck overlooking the water.
COVID-19 NOTE
Reservations not required but strongly encouraged. Cal (401) 847-4514 or click here.
Located at the end of historic Bowen's Wharf, you'll be hard-pressed to find a seat closer to the harbor than on the deck at The Lobster Bar. This waterfront restaurant offers scenic bay views and a menu made for lobster lovers. Lobster rolls? Check. Baked stuffed lobster? Got it. RI lobster bake? Got that too. Not a lobster fan? Not to worry, their menu offers plenty of other delights from the sea.
COVID-19 NOTE
Reservations are not required but are strongly recommended. Call (401) 619-2890 or click here. Outdoor seating is not covered and weather dependent.
This family-owned restaurant nestled on Broadway opened in 2012 and is known for Irish-influenced fare alongside the 31 beers they offer on draft, single malts and Irish whiskeys. In addition an eccentric lineup of entrees, you'll find tapas-style selections. They recently constructed an outdoor dining area in the front of their restaurant, and another in the back, in response to COVID-19 which feels like you're eating on a bustling city street, but with proper social distancing in place.
Midtown Oyster Bar has two outdoor decks, one overlooking busy Thames Street and the other overlooking Newport Harbor, plus the area's largest working raw bar, and three floors of dining space.
COVID-19 NOTE
Reservations for strong encouraged. Outdoor tables are request only and not guaranteed. Call (401) 619-4100 or click here.
Some might dub the best pizza in town, Nikolas Pizza offers handcrafted pizza, homemade lasagna, spinach pies, meatballs, ribs and more from their location on Memorial Boulevard. Savor it all from their outdoor patio.
O'Brien's outdoor garden patio is a top notch favorite among locals and visitors for chill vibes and casual grub located on Lower Thames in downtown Newport. Since its opening in 1979, the patio has grown to seat over 175 people and is the perfect place to meet for cocktails, lunch or dinner.
COVID-19 NOTE
O'Brien's is currently halting reservations and accepting walk-ins only. Dogs are currently not permitted at the outdoor patio.

Welcome to Pasta Beach where the Spaghetti Pomodoro is piled high and the pizza is crafted with homemade dough by chef Gianluca who hails straight from Sardegna, Italy. The emphasis here is on simplistic, approachable Italian cuisine, with dishes that mimic those you might eat in Italy. The restaurant's outdoor patio offers both fire pits and outdoor heaters.
This eclectic restaurant is set in a historic, 18th-century Naval officer's home turned casual and boisterous gathering space. Perro Salado serves fresh, authentic Mexican cuisine, and their outdoor patio rests beneath a charming pergola adorned in Edison Bulb string lights, making it an enchanting locale for an evening of margaritas and authentic Mexican eats.
COVID-19 NOTE
Reservations required. Call (401) 619-4777 or email office@perrosalado.com.
The Reef offers a selection of fresh surf and turf, plus entertainment with outdoor waterfront seating on Newport's Howard's Wharf.
COVID-19 NOTE
Reservations required. Call (401) 324-5852 or click here. Reservations are for a 90-minute window. For the health and safety of visitors, single-use paper menus will be available alongside QR codes for a digital version. Bottles, water pitchers and condiments will not be available on the table.
Casual dining meets waterfront views of Newport Harbor at The Port where you'll enjoy New England favorites like lobster rolls and clam rolls, plus American classics like burgers and BLTs.
COVID-19 NOTE
Seating is limited and reservations are suggested. Call (401) 619-5892 to make a reservation.
Portside is like 22 Bowen's little sister restaurant: an open-air, harborside bar serving up cocktails and bites amid the liveliness of Bowen's Wharf.
COVID-19 NOTE
Reservations are strongly encouraged. Call (401) 841-8884 or click here. At this time, 22 Bowen's is unable to make guarantees for whether guests are seated on the outdoor patio versus inside the restaurant prior to arrival. Menus will be single use, or as a green option, all tables will have a QR code that will direct you to a mobile friendly menu you can view right from your phone.
Saltwater combines New England charm and cuisine in a lively atmosphere. Enjoy classics like deconstructed New England clam chowder and buckets of waffle fries (not an exaggeration) all with a waterfront view.
COVID-19 NOTE
Reservations are recommended. Menus will be accessible online using our personalized QR code.
The decor isn't the only thing eclectic about this casual eatery located in Newport's Broadway district. Salvation Cafe's outdoor patio is equipped with a full bar, cozy seating and features an expansive menu with around-the-world dishes like their beloved pad thai, their signature short rib burger, and cajun jambalaya.
Sardella's Restaurant, recognized as the best Italian restaurant by Rhode Island Monthly and Newport Life Magazine, was founded in 1980 by former Newport Mayor Richard Sardella. It specializes in Northern and Southern Italian cuisine, and recently made major renovations to their outdoor patio, amplifying the restaurant's outdoor dining scene on Memorial Boulevard.
COVID-19 NOTE
Reservations required. Call (401) 849-6312. All food and drinks will be served on disposable, takeout containers. Utensils will be served in individual sealed packets and menus will be single-use.
The outdoor deck at Skiff Bar at Newport Marriott overlooks Newport Harbor and offers a menu of craft and local brews, specialty cocktails, and delicious appetizers including flatbread pizzas, signature wings and more. Lounge at one of the outdoor tables or plush seats and savor the sea breeze.
COVID-19 NOTE
Reservations required. Call (401) 849-7788.
Nacho lovers rejoice because Smoke House recently announced they'll be staying open through the winter. This casual, rustic, open-air joint boasting backyard barbecue flavors typically closes down come mid-Autumn, but revamped their menu and is keeping doors open through the cooler months. Enjoy slow-cooked barbecue, brisket and handcrafted cocktails in the very heart of downtown.
COVID-19 NOTE
Reservations are strongly encouraged. Call (401) 849-900. Menus will be single use, or as a green option, all tables will have a QR code that will direct you to a mobile friendly menu you can view right from your phone.
From the owners of Stoneacre Brasserie in Newport's Washington Square comes the new Stoneacre Garden located in Swineburne Row (the old Barking Crab if you remember the days). The design is inspired by the gardens and grounds of the Stoneacre Estate, with a cheerful yellow and red awning reminiscent of a circus tent from days gone by. Your whimsical al fresco experience comes adorned in lush greenery hung from the outdoor awning. Make your way through the open garage doors at each end of the interior and past a collection of eccentric furnishings, up to the rooftop bar overlooking America's Cup Avenue for a craft cocktail. And on the menu? Expect seasonal farm-to-table fare similar to that of Stoneacre Brasserie.
Located next to the brand new Hammett's Hotel downtown is Surf Club. Their outdoor bar overlooking America's Cup Avenue is a hot spot for enjoying the bustle of downtown and their menu pretty much runs the gamut with offerings including pizzas, tacos and poke bowls.
Pro Tip: Rhode Island Monthly readers voted their pizza the best in Newport County so maybe don't skip it.
The former Thames Street Kitchen traded in its farmhouse vibes and contemporary American cuisine for a moody, bistro-like scene at the Revolving Door location. Chef-owners Chad Hoffer and Tyler Burnley now operate a long-term residency here, where an open kitchen concept and a uniquely ever-changing menu full of earthy, decadent dishes are the hallmarks of this intimate restaurant located on Lower Thames.
This Italian eatery previously located at 515 Thames Street moved down the block to open at 580 Thames Street, the location formerly occupied by Lorusso's Cafe, Reclaimed Cafe and Yagi Noodles. The interior is inspired by the coastal town of Viesté in the Apulia region of southeast Italy, the family home and heritage of owner Anthony Lorusso. Their menu offers classic Italian dishes like eggplant rollatini, gnocchi al pomodoro and spaghetti and meatball while their outdoor courtyard is outfitted in heaters and string lights.
A stroll through Bowen's Wharf in downtown Newport will land you at The Wharf Southern Kitchen where southern-style cuisine is served up with New England ingredients. Think: fried oyster po-boys and seafood jambalaya. Their patio area is outfitted with heaters and vinyl siding for outdoor dining well into the chillier months.
MIDDLETOWN
Johnny's is located on the historic grounds once owned by John Clarke, the founder of Newport. Part of the Atlantic Resort in Middletown, the restaurant is an homage to the iconic beachfront restaurant that was opened in 1938 at the Atlantic Beach Club. The menu is eclectic with offerings ranging from seafood to pasta and sandwiches, and their outdoor patio comes equipped with scenic views of the reservoir.
Farm-to-table fare comprises the menu at this essential lunch spot, where locally-sourced ingredients and farm-focused ingredients are the stars of the show. Think: artisanal cheese, Dad's sticky BBQ wings, roasted local veggies and more; all alongside local wine sourced straight from their onsite vineyard or craft beer.
COVID-19 NOTE
Reservations only. Click here to book. Please note, there is a 1.5 hour limitation on all reservations, and outdoor tables are no longer guaranteed. Weekday (Monday – Thursday) reservations will be released at the beginning of each month for that month only. Weekend reservations (Friday – Sunday) will be released the Monday leading into that weekend.
PORTSMOUTH
15 Point Road in Portsmouth is known for upscale menu items (think: pesto crusted salmon and cajun pan-seared native swordfish) in a casual setting. Their menu is largely influenced by local offerings and their expanded front and back patio overlooks the Sakonnet River making for a serene experience.
COVID-19 NOTE
Reservations are required. Call (401) 683-3138 or click here. Outdoor seating is limited and weather dependent.
JAMESTOWN
Dinner at Simpatico conjures notions of dining in an extravagantly ornate tree house. String lights and ethereal white linens drape from greenery-adorned pergolas and lush trees outside while intricate light fixtures and elaborate decor line the interior of this gem in Jamestown. Each of its seven different areas offers up a different experience, each whimsical in their own way.
TIVERTON
Named among the most scenic restaurants in the country by OpenTable, Boat House in Tiverton combines all the best things about New England into one fine dining experience: fresh seafood, an ocean breeze and nautical charm. Savor fresh, local seafood along the Sakonnet River.
COVID-19 NOTE
Reservations encouraged. Call (401) 624-6300 or click here.
This family-owned seafood shack open seasonally is located on Nanaquaket Pond in quaint Tiverton and has been a fixture of Rhode Island since its inception more than 40 years ago. Aside from scenic views, you'll find all your seafood favorites, like fried clams and traditional RI clam chowder; plus a few items with a twist, like lobster chow mein.  Reservations Monday – Thursday only (must be made same day as dining experience). All parties limited to 5 or less guests.
Pro tip: Keep an eye out for Evelyn's BIOBUG, a diesel VW Bug powered by clam cakes and their partnership with Newport Biodiesel. Newport Biodiesel picks up the used fry oil produced by Evelyn's fried offerings, processes it, and then fills the BIOBUG with biodiesel. In 2010, Evelyn's recycled 27,000 lbs of fry oil!
COVID-19 NOTE
For the health and safety of visitors, Evelyn's has removed their picnic tables, but encourages you to bring your own beach chairs, small tables, blankets and picnic gear for outdoor dining.
BRISTOL
The Beach House is situated along the East Bay Bike Path in Bristol boasting scenic waterfront views of Bristol Harbor. Their outdoor patio is adorned in enchanting string lights, high-top seating and a spacious outdoor bar. As for the menu, think contemporary American meets classic New England: Clam chowder, clam cakes, flatbreads, pasta, burgers and more.
The charming eatery is located in downtown Bristol overlooking Independence Park and Bristol harbor. Order from their farm-to-table menu boasting sweet and savory treats like Beehive pot pies and gluten free orange ricotta pancakes, then make your way outside to the patio or upstairs to the balcony for scenic bites.
Located in what was previously the 1818 DeWolf Rum Distillery on Thames Street Landing is DeWolf Tavern, a harborside restaurant boasting entrees you would expect of a restaurant located on the bay: stuffed lobster, swordfish, and salmon, to name a few; but you'll also see a good deal of Indian influence thanks to Chef Sai Viswanath. Think: Lobster cooked in a tandoor oven (a cylindrical clay or metal oven), chickpea battered shrimp pakora with sweet chili sauce and pakora battered cauliflower manchurian. Their outdoor seating is situated under a large tent overlooking the harbor for picturesque views.
Make your way over to The Lobster Pot for a taste of classic New England flavor. Opened in 1929, this seaside eatery offers traditional New England fare and their menu is largely based on what's fresh from the market. Seafood lovers, feel free to build your own raw bar plate complete with oysters, littlenecks, shrimp and lobster cocktail to your heart's content. Did we mention its located right on the harbor? Grab a seat on the back patio, a bowl of quahog clam chowder (it'll change your life) and watch the boats bobble along the bay.
Founded in 1954, Quito's started as a local fish market. Today, it operates as one of Bristol's most beloved eateries for cozy dining and delicious seafood. Their patio offers beautiful sunset views of Bristol Harbor for a dining experience both scenic and savory. Reservations only.
COVID-19 NOTE
Reservations required. Call (401) 253-4500 or click here.
WARREN
Named the best cheap eats in RI by Travel & Leisure, Blount Clam Shack's menu may lack dollar signs, but nothing else. The award-winning, waterfront seafood shack opened back in 1943 and has since been serving up seafood favorites with a twist, like clambake chowder crafted with all the best parts of a clambake in a delicious soup; or their giant lobster roll, made with 1/2 pound lobster chunks. Seafood lovers, rejoice. Not to mention, the quaint shack is located right on Warren's scenic waterfront. Sink into an Adirondack chair and enjoy.
COVID-19 NOTE
Seating in the dine-in area will be available on a first come, first serve basis. Note there are fewer tables than normal this year to accommodate 8 ft. of separation.
Bywater recently turned its former 4-table patio into a full outdoor dining scene with a firepit, benches equipped with blankets, and individual heaters at each table. As for the menu, this seafood and farm-to-table meets comfort food, with plates like cioppino and scallops served over fresh pasta with pancetta. The atmospheres gets a charming boost from twinkle lights hanging overhead.
COVID-19 UPDATE
Reservations recommended. Call (401) 694-0727 or click here.
There is a reason Chomp in Warren is considered the Bristol County Burger Authority. It probably has something to do with the fact that they pile their burgers high with excessively enticing and distinctly creative toppings like fried jalapeno chips, mac and cheese and crispy wontons. Not to mention they've pretty much won every award in the book: Best Restaurant, East Bay 204, Best Burger, Statewide 2020, Best Frickles, Statewide 2014, Best Bacon Burger, Statewide 2017, Top 5 Burgers in America 2014, and so on. They recently opened a beer garden at their Warren location with socially distanced tables and a canopy of string lights underneath their expansive tent. Arrive ravenous.
Waterdog Kitchen & Bar opened earlier this year with a laid-back atmosphere and a robust menu. The restaurant, situated on Water Street, offers a variety of snacks and shareable, seafood options, sandwiches, hot dogs (well played), grilled cheeses and more. Their patio offers umbrella topped tables and benches for al fresco eating.
This recently renovated waterfront restaurant was established in 1955, but the building and surrounding wharf date all the way back to the 1700s. You'll be hard-pressed to find a seat closer to the water than here, where the menu maintains a focus on fresh-from-the-sea offerings alongside a collection of boards, sandwiches, tacos and specialty cocktails. Make your way to the rooftop bar (seating available first come, first serve) outfitted in couches and cozy seating for the best view in the house.
BARRINGTON
This family-friendly, farm-to-table restaurant in Barrington dishes locally sourced, contemporary meals with a unique twist. Savor decadent entrees like gnocchi mac & cheese (yup!), burrata ravioli and more, all served on their vibrant outdoor patio.
COVID-19 UPDATE
Reservations required. Call (401) 247-0017 or click here.
MORE EXPERIENCES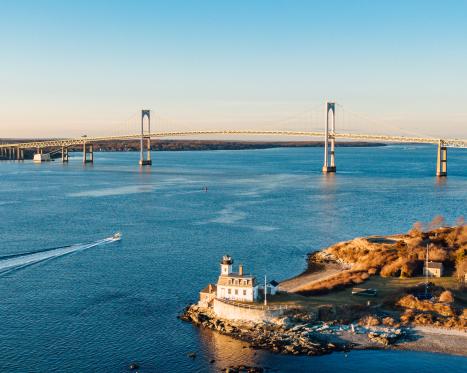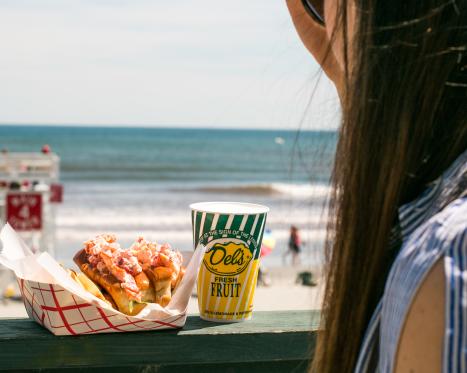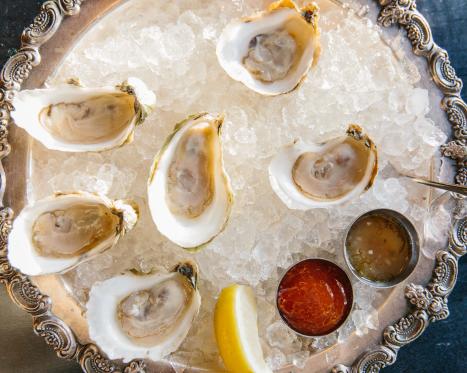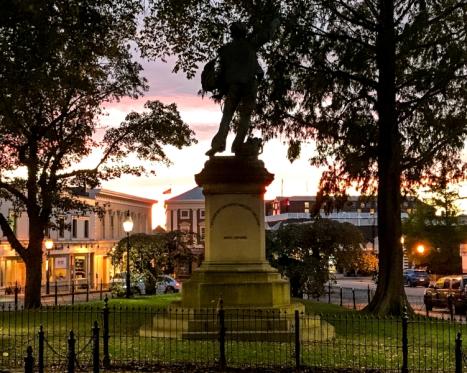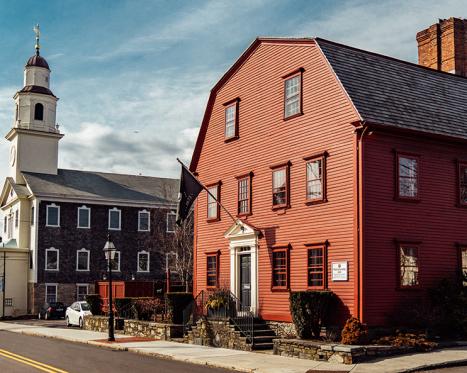 GET SOCIAL
Tag your photos #TheClassicCoast for the chance to be featured on our accounts.