We found this recent article from Money.com informative and helpful and wanted to share it with our audience!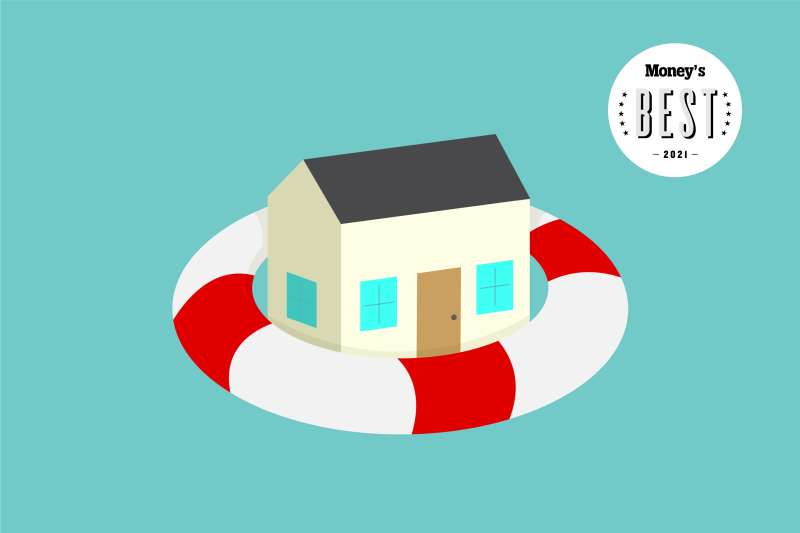 If you don't know the ABCs of homeowners insurance, you might end up paying more for inadequate coverage. To aid you in the process and help you find a homeowners policy that works for you, here are the best 5 homeowners insurance companies of 2021.
Money's Best Homeowners Insurance Companies for 2021
What are current homeowners insurance rates?
Find your actual rate at a top insurer in your area – click your state to get started and see your rate today.
HawaiiAlaskaFloridaSouth CarolinaGeorgiaAlabamaNorth CarolinaTennessee
RI
Rhode Island
CT
Connecticut
MA
MassachusettsMaine
NH
New Hampshire
VT
VermontNew York
NJ
New Jersey
DE
Delaware
MD
MarylandWest VirginiaOhioMichiganArizonaNevadaUtahColoradoNew MexicoSouth DakotaIowaIndianaIllinoisMinnesotaWisconsinMissouriLouisianaVirginia
DC
Washington DCIdahoCaliforniaNorth DakotaWashingtonOregonMontanaWyomingNebraskaKansasOklahomaPennsylvaniaKentuckyMississippiArkansasTexas
Fast quotes in minutes
AI claims processing system
Flat fee on low monthly premiums
Demotech Financial Stability Rating: A
Lemonade Insurance is an online-only insurance company that uses AI to provide seamless and fast home insurance quotes and home insurance services.
Getting an estimate takes only a few minutes and is as simple as filling out some information and choosing the coverage amount you want. A team of insurance professionals is available to guide you through the process if needed.
What makes Lemonade genuinely stand out is its approach to policy premiums and claim payments. The company will take a flat fee out of your monthly premiums, leaving the remaining money available to pay out any covered loss you may have during the year. In many claim situations, you'll get paid in a matter of minutes.
With the Lemonade Giveback program, the company will pay up to 40% of the premium that hasn't been paid out in claims to a non-profit organization you choose when you originally signed up for the policy.
The only downside to Lemonade is that its insurance policies are not available in all states.
Lemonade COVID-19 Response
Lemonade allows customers to go through financial hardship to defer premium payments for up to 60 days without losing coverage. They have also extended their grace period to 60 days for customers who have already fallen behind on their payments.
Erie Insurance: Best Range of Coverage Options
Customizable coverage deductibles
Bundling with car insurance
J.D. Power Ranking: 6th (out of 20)
A.M. Best Rating: A+
We chose Erie Insurance as one of the best home insurance companies in the US because of its unique homeowners insurance coverage options.
Erie's Guaranteed Replacement Cost feature coverage option allows homeowners to rebuild their home the way it was before the incident, without a policy limit.
Its Full Roof Replacement coverage pays for the full replacement cost of a roof destroyed by a peril such as hail or a windstorm.
Coverage deductibles can be customized to the risk level you're comfortable with.
Erie offers insurance customers an 16% to 25% reduction for bundling car insurance and home coverage, as well as savings for those who install automatic sprinklers, smoke detectors, and burglar alarms.
Erie Insurance COVID-19 Response
Erie Insurance is being more flexible with payment dates and may waive some penalties and fees. You can request deferred payments by logging into your account. For more information, visit their blog.
Allstate: Best for Claim-Free Homeowners
Additional rebate when renewing your standard policy
Rateguard option locks in your premium
HostAdvantage for home-sharing or renting
J.D. Power Ranking: 7th out of 20
A.M. Best Rating: A+
We chose Allstate as one of our best homeowners insurance companies because of the many ways this insurance carrier rewards homeowners who take good care of their property and are claim-free.
If you switched to Allstate and didn't file a claim with your previous insurer, you can get an additional rebate when you renew your Allstate standard policy after spending the year claim-free.
Allstate will also lower your deductible amount for every additional year with zero insurance claims with the company.
As part of its wide array of insurance products, Allstate also offers a program called HostAdvantage for people who sometimes share their home or lease it out for the short term. This personal property coverage protects you against theft and damage to personal property by your guests.
Allstate COVID-19 Response
Allstate is encouraging policyholders to use the company's mobile app to view policy information, start a claim, provide proof of insurance, or request 24/7 roadside assistance.
Contractor Connection database connects you with contractors
Discounts for claim-free customers
J.D. Power Ranking: 1st out of 20
A.M. Best Rating: A+
Amica Mutual has topped the J.D. Power Property Claims Satisfaction Study for nine consecutive years, which points to an extraordinary commitment to helping customers deal with the aftermath of potentially catastrophic losses. The insurer stands out from the competition in other ways.
Its Contractor Connection database lists thousands of vetted, licensed, and insured contractors and guarantees their work with a five-year warranty.
When you buy a policy from Amica, you are also buying company shares. You may receive dividends when the business is doing well, and you can choose to receive those funds as cash or apply them towards your insurance premium.
Amica offers pricing discounts to customers who have been with the company for at least two years, as well as those who are claim-free for at least three years.
Amica COVID-19 Response
Amica is working with customers to establish repayment plans and keep their coverages in place. Check out their FAQ for more information.
USAA: Best for Military Personnel and their Families
Get 10% off with a car insurance policy
Discounts for condo or renters policyholders with no claims
A.M. Best: A++
USAA is a highly rated insurance provider with many insurance options and additional coverage for members of the military and their families.
Available only to USAA members, these homeowners insurance policies offer the following unique benefits. Cover personal belongings at today's replacement cost, with no depreciation. Save up to 10% on your homeowners insurance premium if you get an auto insurance policy with USAA.
One of the few downsides to USAA is that it's only available to military members and their families. However, if you qualify for membership in USAA, it would be hard to find better home insurance for property damage.
USAA COVID-19 Response
Policy cancellations for non-payment have resumed, except in states where non-payment cancellations are prohibited. However, the insurance provider offers financial assistance to qualifying members who the pandemic has economically impacted.
Other Home Insurance Companies We Considered
As we analyzed home insurance companies, we emphasized financial stability and strong customer satisfaction ratings, plus the variety of coverage options each company offered.
The insurance providers we selected excelled in all of these categories, but that doesn't mean there aren't other home insurance providers that can offer the right coverage, price, and customer service for you.
Hippo, State Farm, Farmers Insurance, Liberty Mutual, and Travelers Group offer home insurance plans that can fit your needs, budget, and standards.
What Is Homeowners Insurance?
Homeowners insurance coverage is a type of property insurance that provides financial protection to a private residence against loss due to disasters, theft, and accidents.
The Different Types of Homeowners Insurance
There are several types of homeowners insurance policies. Which one is right for you will depend on the level of coverage you want.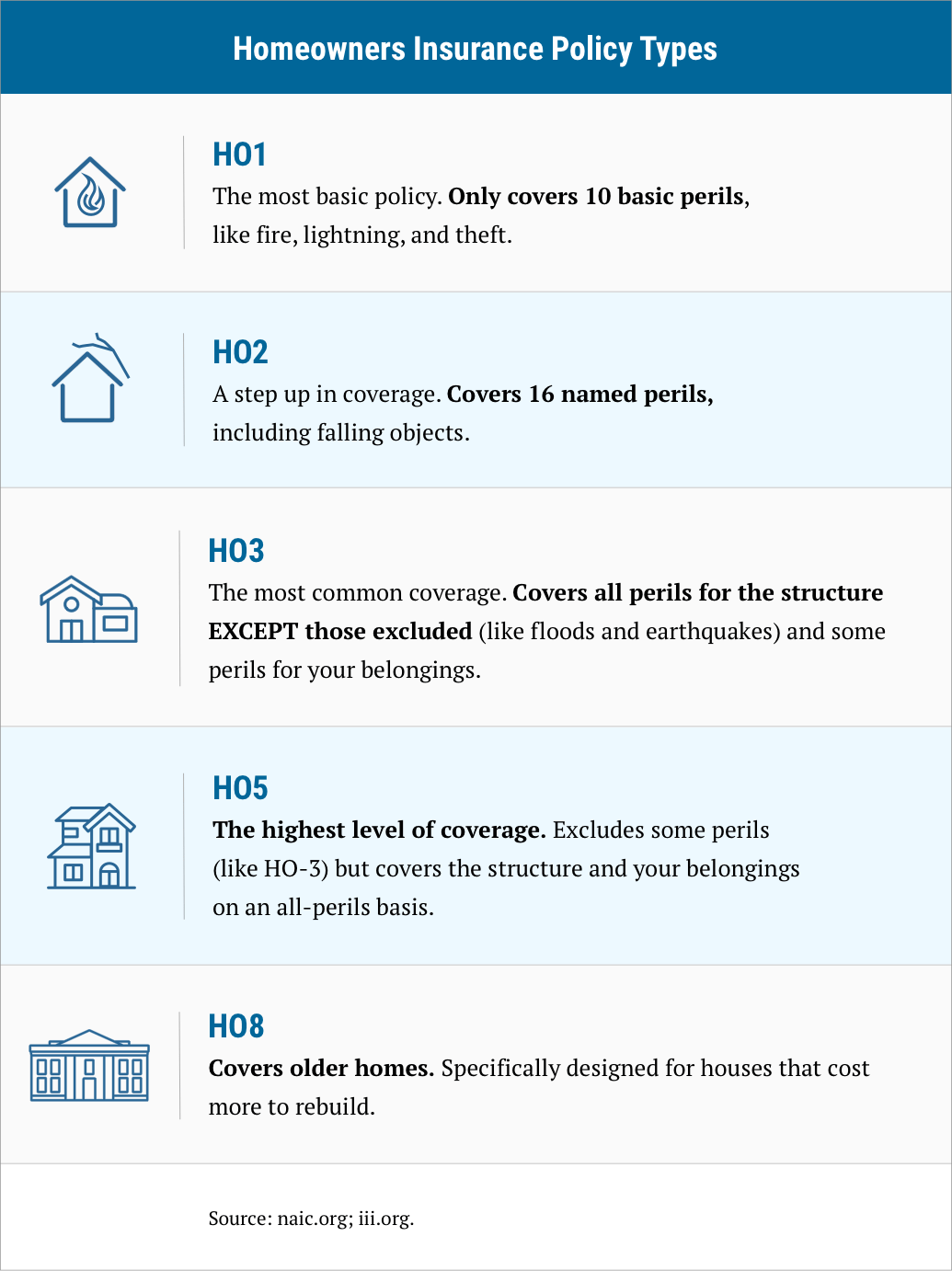 The most common policy is the HO-3 policy, also known as the "special form" policy, which includes coverage for the dwelling itself, your personal property within it, and personal liability coverage.
What ISN'T Covered by Homeowners Insurance
When it comes to dwelling coverage, it's easier to talk about what isn't covered. In general, most policies will not cover losses to the structure caused by the following perils: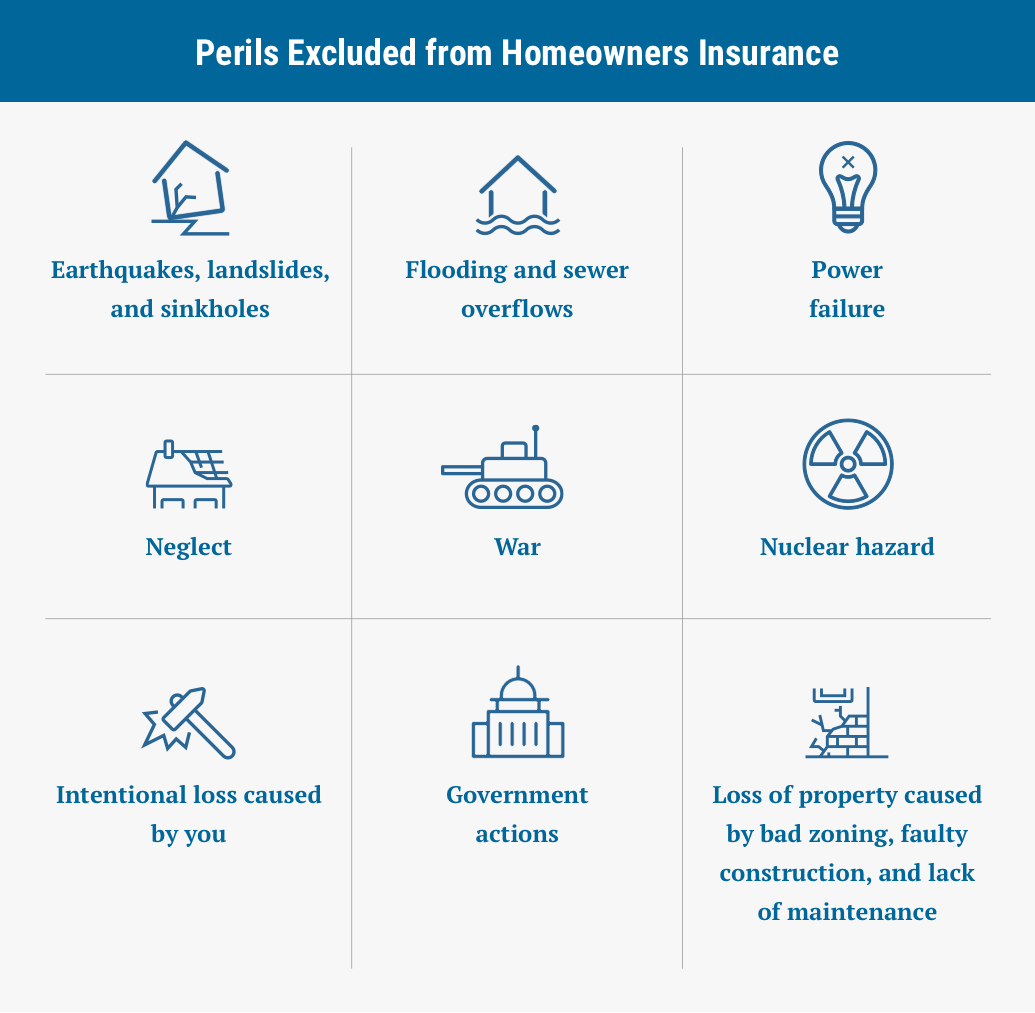 High-risk flood areas: If your area is deemed high-risk by FEMA, you will be required to purchase flood insurance for your property as an add-on to your policy. The National Flood Insurance Program (NFIP) provides flood insurance to property owners, renters, and businesses and is available for anyone living in one of the 23,000 participating NFIP communities. For more information about what's covered, visit FloodSmart.gov.
Hail and wind: Depending on where you live, there may be additional weather-related exclusions. For example, homeowners insurance policies issued for coastal homes in Texas don't cover wind or hail damage. For that, you need to sign up for wind and hail coverage with the Texas Windstorm Insurance Association (TWIA).
Dangerous dog breeds: Many insurance companies also limit losses and liability claims caused by some dog breeds.
The list of restricted breeds varies by the insurance company. Here are some dogs commonly associated with behavioral problems and so might show up on your company's bad-breeds list:
Pit Bull Terrier
Staffordshire Terrier
Rottweiler
German Shepherd
Presa Canario
Chow Chow
Doberman Pinscher
Akita
Wolf hybrids
Mastiff
Cane Corso
Great Danes
Alaskan Malamute
Siberian Husky
Some insurance companies do offer a third option. According to the American Kennel Club, a restricted breed dog may be covered under a home's liability insurance if it undergoes (and passes) the AKC's Canine Good Citizen program. This 10-step test assesses how well your dog responds to commands and how generally well-behaved they are.
How to Determine Your Homeowners Insurance Coverage Limits
You don't want to set your coverage limits too low because then you won't be covered when it's time to file a claim. But you also don't want to overpay for coverage you don't need.
Coverage limits usually boil down to a decision between "actual cash value" or "replacement cost" coverages.
Actual cash value calculates the value of your home minus depreciation, taking into account any existing damage or wear. With this option, if your home is destroyed, you'll only receive a settlement for your home's value at the time it was lost.
The home replacement cost reflects the amount needed to rebuild your home to be as similar as possible to how it was before. Home replacement costs are almost always higher than the actual cash value, which is why it's the most expensive coverage option.
There isn't a one-size-fits-all coverage choice. It all depends on the homeowner, the dwelling, and the location, among other factors.
"A lot of people have the following misconception when buying insurance, 'Well, if I bought my house for a million dollars, I need to make sure that I have a million dollars in coverage,'" said Dmitriy Golodriga, a San Francisco-based insurance broker.
This thinking is flawed, said Golodriga. "Every situation is different. If you bought a home, you need to know how much it would cost to rebuild it."
When it comes to personal belongings, you may have more leeway:
If a thief steals your television, for example, the cash value should be sufficient, assuming it's a reasonably standard set.
If, on the other hand, the TV was a rare state-of-the-art model that you'd want to be replaced with the same unit, you might want to spring for replacement cost coverage.
In any case, to make the most out of your policy, you should make a detailed inventory of all your personal property and its value before coverage begins and submit that to the insurance company to ensure it will all be covered.
Most Common Homeowners Insurance Discounts
When shopping for the best homeowners insurance, you should make it a point to ask about discounts.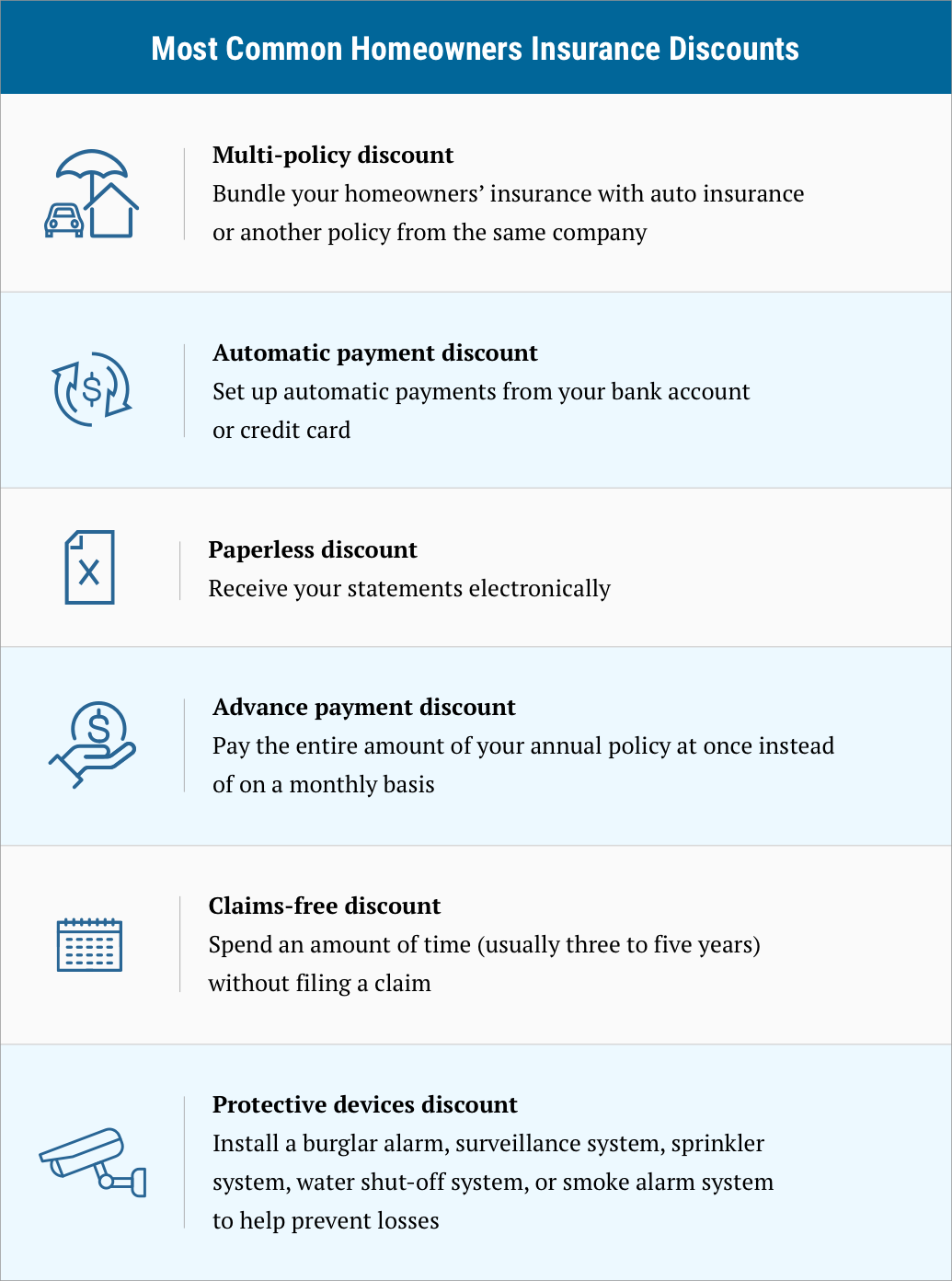 Each company will have its own options for helping you lower your insurance costs, but the following are the most common:
Bundling your home and life insurance policies with the same company
Living close to a fire station
Having a house newer than 10-50 years old
Signing up for an insurance policy within a year of purchasing your home
Renewing your policy before it expires
How Climate Change is Affecting Homeowners Insurance
One of the biggest challenges facing homeowners today is the effects of climate change on their property. According to the Insurance Information Institute (Triple-I), insured losses due to natural disasters totaled around $39.6 billion in 2020.
Homeowners Insurance Options in Disaster-Prone Areas
For homeowners in climate-risky geographical areas, often the only choice is to obtain insurance through a Fair Access to Insurance Requirements (FAIR) plan.
These plans afford insurance to owners of properties at high risk for wind, wildfire, earthquake, and other types of damages.
However, these programs, also known as "last-resort insurance policies," can be expensive.
Another possible solution to increasing premiums and unavailable coverage is the use of climate data to help insurance companies and homeowners manage risk.
Companies like Jupiter Intelligence and First Street Foundation are working to create large data sets to help governments, private companies, and individuals understand the risk to infrastructure from the effects of climate change.
According to Matthew Kahn, a Bloomberg Distinguished Professor of Economics and Business at Johns Hopkins University, that kind of data could help insurance companies price premiums according to the actual risk each property faces, instead of making assumptions about vast tracts of land-based on outdated information, such as FEMA's flood maps.
Managing the Risks of Fire, Wind, and Water Damage
We spoke to experts from the Insurance Institute for Business and Home Safety (IBHS) and the National Association of the Remodeling Industry (NARI) to bring you tips for mitigating disaster damage in your home.
Mitigate Fire Damage
Keep a space of at least 5 feet around your home that's free of materials that are prone to catch fire.
Keep the rest of your yard clear of flammable debris, too, like leaves.
Cut back any overhanging branches that could land on your roof.
Install fire-resistant siding and roof tiles.
Close the eaves of your roof.
Install fine-mesh screens in the vents of your house to prevent embers from igniting fires inside the structure.
Mitigate Wind and Water Damage
Install wind-rated doors and windows that can resist high-force winds. Those can help prevent water damage inside the house and protect the structural integrity of the building.
Install a sealed roof deck, which will protect the interior of your home if high winds tear off the roof cover.
Inspect your roof often for leaks, missing flashing, and loose tiles, and secure fittings like gutters, vents, and chimneys that could cause further damage if they were to come loose.
Replace plastic or aluminum gutters and spouts with more durable steel gutters.
Lastly, to prevent burglaries and theft, it's recommended that homebuyers and property owners get security systems for their homes.
Best Homeowners Insurance FAQ
How much is homeowners insurance a month?
According to the latest data published by Statista, the average cost for a single homeowners policy in the US is $1,200 per year or $100 per month. However, homeowners' insurance rates may vary substantially depending on your home's specifics, how much coverage you want, and where you live.
What does homeowners insurance cover?
Most standard policies include four types of coverage: 1) coverage for the structure of your home; 2) coverage for your personal property; 3) liability protection; and 4) coverage for additional living expenses. A few providers offer identity theft coverage in their basic policies, but you will have to purchase an endorsement (also known as a rider) for an additional cost.
How are homeowners insurance claims paid?
In most cases, an adjuster will inspect the damage to your home and offer you a certain sum of money for repairs, based on the terms of your homeowners policy. The first check you get from your insurance company is often an advance against the total settlement amount, not the final payment. You may get multiple checks from your insurer as you make temporary payments, permanent repairs, and replace damaged belongings. Bear in mind that your lender or management company might have control over your payment, and some insurance companies may pay your contractor directly.
What is the 80% rule in homeowners insurance?
Though it is an "unwritten rule" in the homeowners insurance industry, in practice, this rule means that companies will only offer complete coverage after a disaster if — and only if — the policy is for at least 80% of the property's total replacement value.
Do homeowners insurance policies cover loss of use or additional living expenses?
Loss of use — also known as additional living expenses — is included in most standard home insurance policies. This coverage will help policyholders pay for everything from groceries to hotel rooms while the damaged property is repaired.
How We Chose the Best Homeowners Insurance Companies
Our list of best homeowners' insurers streamlines the shopping experience. To devise a methodology, we looked through dozens of insurers and coverage options and narrowed our choices to the best ones based on a series of attributes.
We started our research by seeing how insurance companies stacked up in JD Power's 2020 U.S. Property Claims Satisfaction Study, which measures customer satisfaction with such processes as claim settlement, claim servicing, First Notice of Loss (FNOL), estimation, and repair.
To further narrow the field, we considered each underwriter's complaint ratio for homeowners insurance based on data from the National Association of Insurance Commissioners (NAIC). After that, we eliminated companies with A.M. Best financial strength ratings below A+.
Best Homeowners Insurance Companies of 2021