Jessica and Jay Wilson
O: 401-2193177 M: 401-213-5542
JESSICA'S BIO
Jessica is a Southern Rhode Islander through and through. Born and raised in the area, she knows all the right places to look when it comes to taking full advantage of our beautiful state. Jessica has had a successful track record as an entrepreneur, even prior to joining the world of residential real estate. Her years spent as an owner and operator of a Personal Organization company gives her a unique perspective and helpful eye when discussing floor plans and the omni-present need to de-clutter! During her down time, she enjoys hiking with her pups, a few rounds in the kick boxing ring and other various fitness-training activities. Jessica also likes to expand her knowledge of nutrition and gardening and then combining the two, alongside her son.
Her experience, patience and compassion for others make her a great fit for this industry of helping people!
JAY'S BIO
Jay has an extensive background in sales. Having been in restaurant service and management, has provided knowledge, not only in customer service, but fast pace multi tasking , and cultivating relationships that are customer centric. Having also been a well known barber for many years , he has the ability to spark a meaningful conversation with just about anyone he crosses paths. Just a short moment with Jay will have you feeling confident, as well as a strong sense of friendship. In short, one can't help but gravitate to his energetic,  thoughtful and creative personality. His long history of playing team sports gives him great leadership qualities while maintaining a positive attitude and working diligently to close the deal.
Jay is a resident of Charlestown with his wife, Jessica, and son, Julius. Jay and Jessica also grew up in south county and Newport with a love for coastal living. Having been with his wife since high school, he understands the commitment and longevity necessary to maintain a healthy relationship that transpires into his business.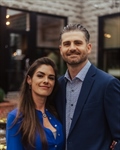 Jessica and Jay Wilson
Sales Associates, Realtors
Edge Realty RI - Narragansett


1007 Boston Neck Road




Narragansett

,

RI

02882


Phone:

401-2193177